Molded rubber is the result of the rubber molding process. Rubber molding is the process of transferring, compressing, or injecting raw rubber material into a metal mold cavity to turn uncured rubber or an elastomer into a useful product. Molded rubber items are produced using three basic techniques: injection molding, transfer molding, and compression molding. Read More…
Molded Rubber
Molded rubber is the end product of the rubber molding process. Rubber molding is the process by which raw rubber is melted and formed in a mold. There are three main processes used for to produce molded rubber products, these are injection molding, transfer molding and compression molding.
Types of Rubber Molding Processes
The different types of rubber molding processes include:
Compression Molding
A rubber compound or mixture of raw materials is used in the compression molding process to produce "pre-forms" that roughly resemble the final product. Pre-forms offer an abundance of material that can be used to completely fill the void. Once the pre-form is in position, the mold is subsequently sealed, providing pressure and heat to the pre-form to help it fill the cavity. Excess pre-form material overflows into overflow grooves as the cavity is filled. After this, the rubber is often demolded by hand, leaving us with the final product made of molded rubber.
In applications requiring extremely expensive materials or low volume production, compression molding is frequently utilized for medium hardness compounds. The quantity of overflow, or flash, produced during the rubber molding process is reduced thanks to this procedure. Pre-forms for compression molded rubber products can be challenging to insert into more intricate mold designs. Furthermore, the material flow requirements of tougher rubber compounds do not suit the compression molding process effectively.
Rubber Injection Molding
By heating the rubber and applying much higher pressure per square inch of cavity surface during molding, rubber injection molding successfully modifies the plastics manufacturing process. In contrast, the materials are cooled under less pressure during the plastic injection molding process.
In many instances, injection molding has evolved into one of the most effective ways to make molded rubber products. The preparation of the material effectively is the first step in the injection and injection-transfer molding processes. The material is first mixed in bulk, and then it is promptly peeled into continuous strips that are approximately 1.25" wide and .375" thick. These strips are then fed through a screw, which fills a barrel with the right amount of rubber material according to a predetermined amount.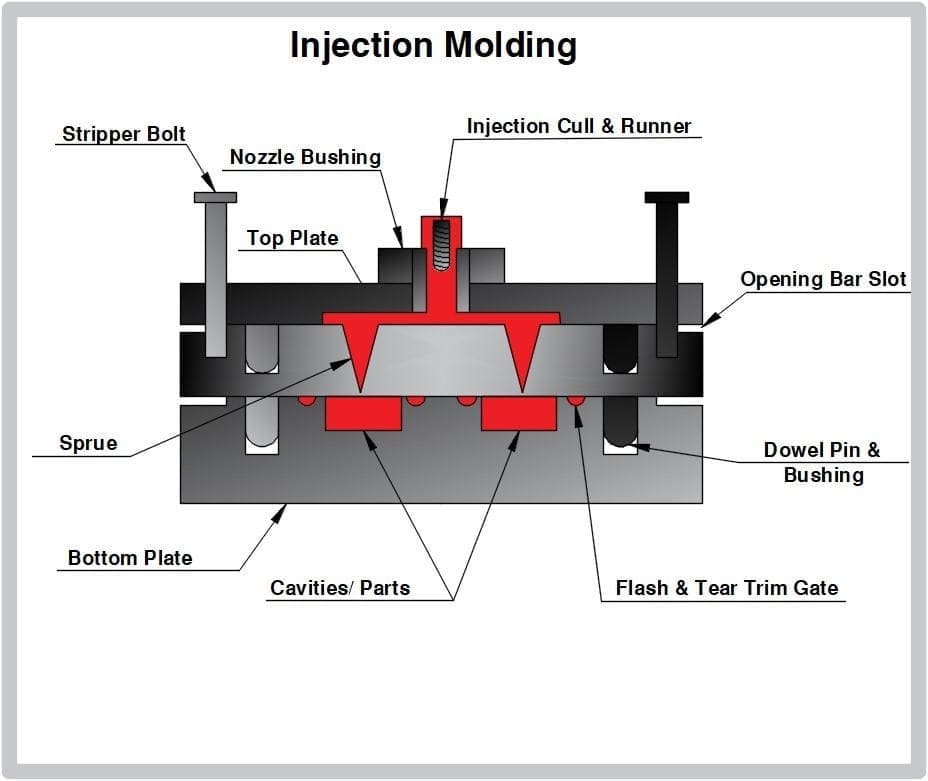 Transfer Molding
Transfer molding involves secondary raw material preparation into pre-forms, just like compression molding. However, it varies in that these pre-forms are put into a "pot" that is situated between the top plate and a plunger. The mold is shut after the pre-forms have been put inside it, and the material is crushed by the plunger and transmitted through sprues into the cavity below.
Types of Rubber for Molding
The different types of rubber used in molding include:
Natural Rubber: The latex that the rubber tree produces is where natural rubber is derived. It is the perfect material for vibration dampers, seals, o-rings, mountings, diaphragms, and bumpers due to its high-tensile strength, abrasion resistance, and surface friction qualities. Natural rubber can be used as a covering since it adheres to metal well.
EPDM: Ethylene, propylene, and a diene comonomer that enables crosslinking are combined to create EPDM. Because of its structure, EPDM can withstand temperatures of up to 150 °C and is resistant to heat, light, and ozone. Given the right conditions, EPDM has a long shelf life. It is employed in braking systems, vehicle and truck panels, and steam systems.
Silicone: Silicone mixed with carbon, hydrogen, and oxygen results in silicone rubber, a substance that resembles rubber. The word, "silicone rubber," refers to a variety of silicone rubbers, which can be distinguished by their chemical composition and organic grouping. Methyl, methyl phenyl, methyl vinyl, methyl phenyl vinyl, and fluoro vinyl methyl are among its several forms. Due to its flexibility, tolerance to high temperature changes, and weather resistance, silicone rubber is frequently utilized.
Neoprene: Chloroprene is emulsion polymerized with a potassium catalyst to create neoprene rubber, commonly known as polychloroprene or chloroprene. It is a versatile material with qualities that make it resistant to abrasion, fire, heat, and the elements. Neoprene is used for coating, hoses, and gaskets because it resists degradation.
Urethane: After being combined with a catalyst, polyol and a diisocyanate or polymeric isocyanate are reacted to create urethane or polyurethane. Since there are numerous varieties of polyols and diisocyanates, there are numerous varieties of urethane rubber materials that can be produced from the various ways in which the compounds can be combined. Rubber made of urethane is utilized in situations where good tensile strength and abrasion resistance are required.
Choosing the Proper Molded Rubber Company
To make sure you have the most beneficial outcome when purchasing molded rubber from a molded rubber company, it is important to compare at least 5 companies using our molded rubber directory. Each molded rubber company has a business profile page that highlights their areas of experience and capabilities and a contact form to directly communicate with the company for more information or request a quote. Review each molded rubber company website using our patented website previewer to get an idea of what each company specializes in, and then use our simple RFQ form to contact multiple molded rubber companies with the same message.
Molded Rubber Informational Video